Giant clam farming, what's next? TMDC: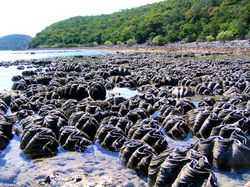 T.Gigas at Orpheus island 20 years later.
There are 2 species of large giant clams, T.Gigas & T.Derasa (60 – 120cm) and 3 species of smaller giant clams, T.Squamosa, T.Crocea & T.Maxima (15 – 55cm) suitable to be farmed for the sea-food industry.

The adductor muscle of the larger clams was considered a great delicacy in Taiwan decades ago and most clams of these species were poached by fishermen almost to extinction in several parts of their natural range.

Because of this alarming situation some research programs were initiated in Australia & Palau in the eighties and nineties to save the species by artificial propagation (aquaculture). James Cook University (Townsville-Australia), MMDC in Palau and a commercial operator Reefarm (Cairns-Australia) were initially successful at producing large numbers of giant clams.

Their intensive farming techniques were later transferred to several hatcheries (25) in the Pacific region but it seems that these are only able to partially supply the demand of clams for the AQUARIUM industry estimated at 200.000 units/year in the USA and Europe.
The huge demand of the sea-food industry for T.Crocea & T.Maxima in Japan and for T.Gigas & Derasa in China is completely unfulfilled despite the opportunity that many Pacific islands would have to enter this lucrative business.

The Tridacna Mariculture Demonstration Centre has developed a special "proprietary" farming technique for giant clams which will allow the production of the commercial numbers of clams needed by the seafood industry in Asia. Juvenile clams will be farmed on specially designed submerged floating structures for about 2.5 years, after which clams will be harvested for sale to the Okinawa and Korean markets. Also, some clams of the larger species could be relocated without protection or maintenance to in-shore lagoons for 7-8 year before harvest and sale to the market of clam adductor muscle & dried mantle in China, Taiwan & Korea.

Giant clams DO NOT NEED additional feeding during their live cycle, making this aquaculture one of the most sustainable and environment friendly agri-business in the world, on an equal foot to forestry!

---